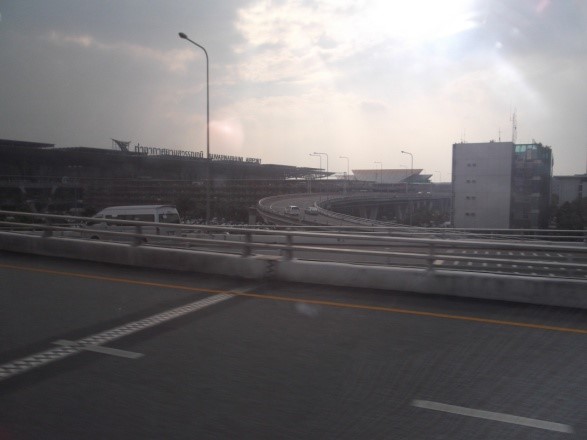 The Royal Thai Embassy in Islamabad sponsored a visit to the Kingdom of Thailand to a group of three professionals from Pakistan such as Azhar Qureshi (myself) from the development sector, Mr. Munir Ahmad from media communication and Dr. Inam ul Haq Ghazi from academia. Mr. Panutat Yodkaew, a highly dynamic diplomat from the Royal Thai Embassy Islamabad acted as group leader and facilitator who gave a comprehensive briefing to us soon after our arrival at Bangkok, on local environment, transportation, main travel routes, important areas of the city, local dress codes, currency exchange, replacement of mobile phone SIMs, local dialing codes, etc. The exposure visit commenced on the late night of 04 October and ended on 09 October 2013. In this way, we had full 5 days to explore the width & breadth of all the target sites with tremendous socio-economic, socio-political and historical importance in the context of sustainable development approaches under the leadership of constitutional monarchy that is widely hailed and loved as the greatest blessing by the people of Thailand.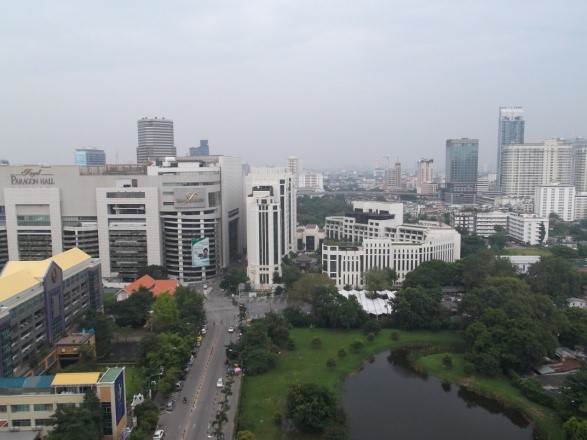 The group also taken into account inter-governmental and diplomatic relations of Thailand with its immediate neighbors across the borders of Vietnam, Cambodia, Laos and Myanmar based on a viable and development-oriented foreign policy. Keeping in view the foresightedness of His Majesty, the King of Thailand, the group was impressed to see that how the immense wealth of natural resources of the country have been judiciously exploited not only for the well-being and prosperity of its people but also the people of neighboring states. Hundreds of Royal Initiative Projectss launched by His Majesty the King and Queen of Thailand to contribute in the sustainable development are the clear indicators for their commitment to the land and people of their homeland. These initiatives are the hallmark of national economy that represents state's real investment on its people. In addition to this, the rapidly growing service industry, manufacturing industry, exportable commodities and tourist industry are the greatest contributor to sustainable development of Thailand due to states liberal policies and conducive environment for foreign investments.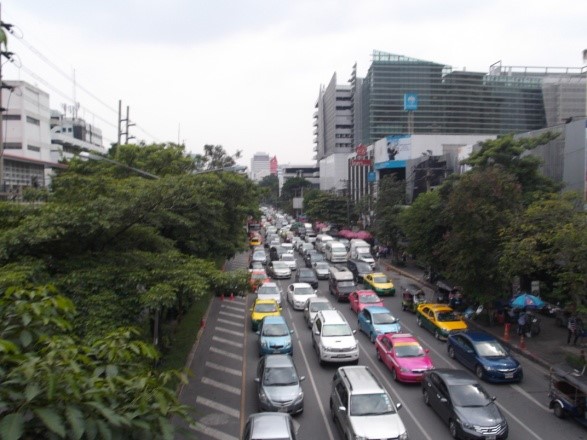 The major challenges to the sustainable development in Thailand include rapid urbanization, population growth, consumerism, growing number of high rise buildings and negative impacts of climate change caused by the increasing human interventions. As a result of fast pace urbanization and growing nature of consumerist society, environmental issues such as air, water and land pollution are going to be an alarm bell for the country like most of its immediate neighbors. However, this is very encouraging to note that despite increasing human interventions for more and more development, the Kingdom of Thailand has been successfully able to conserve its forest resource that is currently 30% of the total land area. In fact, maintaining current balance among the forests and available land is the indicator for conservation of natural resources through measured use and proper planning. In case of disturbance in the current ecological balance caused due to any reasons would be detrimental to the ongoing sustainable development patterns in Thailand.
To have an overview, analyze the current situation and then synthesize the ongoing development patterns, we were provided opportunities to visit the old and new parts of the megacity of Bangkok, the classic coastal city of Hua Hin originally built for aristocrats, many historical sites, service industries, marketing outlets, tourist industry, communication network, sustainable agriculture and role of constitutional monarchy.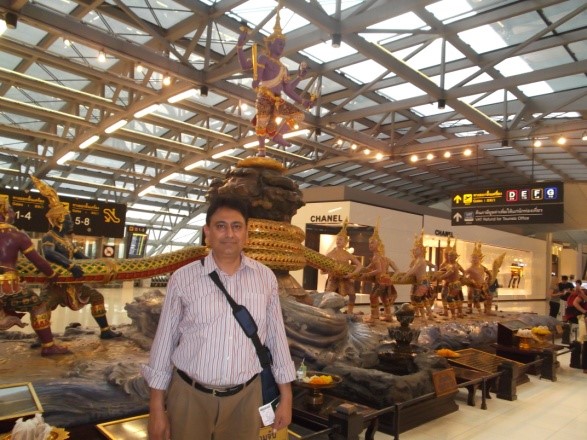 On 04 October 2013 at 1120 pm, sojourn of the group started with their take off by Thai Airways from Benazir Bhutto International Airport Islamabad to landing the next day early morning at Suvarnabhummi International Airport Bangkok. Landing at this airport was a great experience of a refreshing journey with state-of-the-art hospitality rendered by the Thai Airways. The excellence gained and maintained by the airplane crew throughout the flight was a good indicator for the people of Thailand to attract foreign tourists, investors and development planners in their country. We found the airport infrastructure of state-of-the-art quality with excellent customer oriented standards and designed with proper architectural plan. This international airport was built about 10 years before to meet the emerging needs of the global tourism industry. However, the old airport of Bangkok is being used for domestic flights. Although we were travelling in a highly comfortable coaster but to was amazing to notice that the sky train also runs between the international airport and various main locations in the city. The approximate duration of sky train travel in Bangkok is about one and a half hours. The government is now planning to extend the sky train service soon to other provinces as well.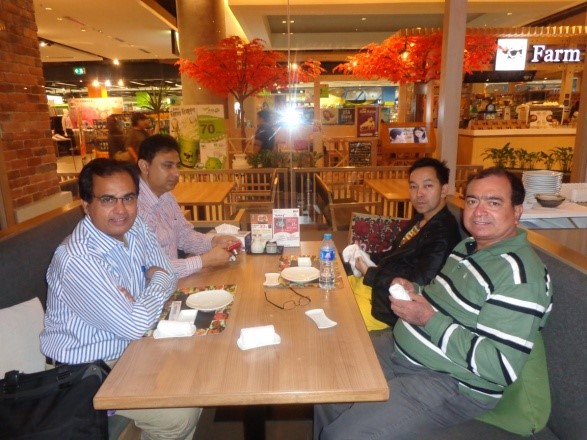 Our local host, the group leader and the Thai diplomat has been guiding us about the Thai housing structures, their compatibility with environment and emerging needs of the urbanization in Thailand, from airport till the old city center where we first reached. Banana plantation across the route gave us a first glimpse when we tried to think about the dominant crops. Nonetheless, we came to know that some five decades back, banana plantation was of course one of the important and dominant crops of the area but no longer currently possibly due to rapid pace of urbanization. It further added to our knowledge that taking care of environmentally compatible architectural plans, river or sea always runs in front of the buildings where applicable.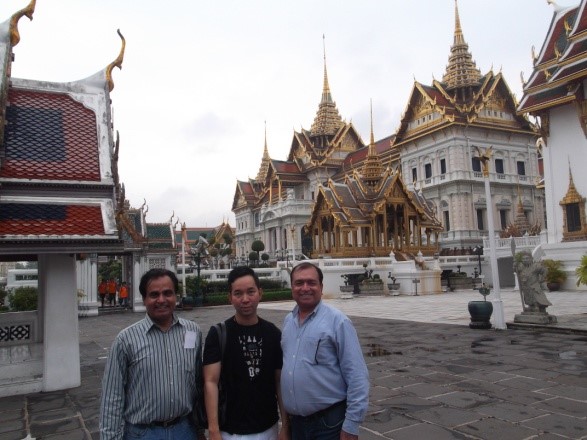 Day-1, 05 October 2013: Soon after arrival at Bangkok, the Capital city of Thailand and to take maximum advantage of minimum time available, we were led towards the historical sites. It was a cloudy but very pleasant day. Our host from the Government of Thailand facilitated us to visit the old and historical sites of Bangkok such the Grand Palace and Temple of the Emerald Buddha. Wat Phra Kaew or the Temple of the Emerald Buddha (officially known as Wat Phra Sri Rattana Satsadaram) is regarded as the most important Buddhist temple in Thailand. Located in the historic centre of Bangkok, within the grounds of the Grand Palace, it enshrines Phra Kaew Morakot (the Emerald Buddha), the highly revered Buddha image meticulously carved from a single block of jade. The Emerald Buddha (Phra Putta Maha Mani Ratana Patimakorn) is a Buddha image in the meditating position in the style of the Lanna school of the north, dating from the 15th century AD.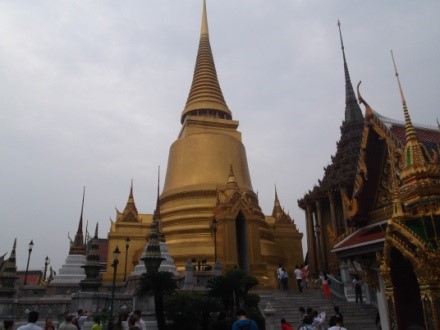 The Old City (Rattanakosin) is located where we had the opportunity to see Bangkok's most spectacular and revered historical attractions, among them The Grand Palace, Wat Phra Kaew and Wat Pho. This provided us a deep insight into the heart, soul and psyche of the Thai people. Part of the Old City, Khao San's 500-metre long strip – dubbed backpacker's street – is jam-packed with budget guesthouses, internet cafés, swanky bars and clubs, restaurants, massage parlours, travel agents, bookshops, market stalls, tattoo shops and much, much more.
Our entry to the Grand Palace located at Na Phra Lan Road, Rattanakosin also led us to Vimanmek Palace and Abhisek Dusit Throne Hall. If there is one must-see sight that no visit to Bangkok would be complete without, it's the dazzling, spectacular Grand Palace, undoubtedly the city's most famous landmark. In shape, the palace complex is roughly rectangular and has a combined area of 218,400 square metres (2,351,000 sq ft) surrounded by four walls.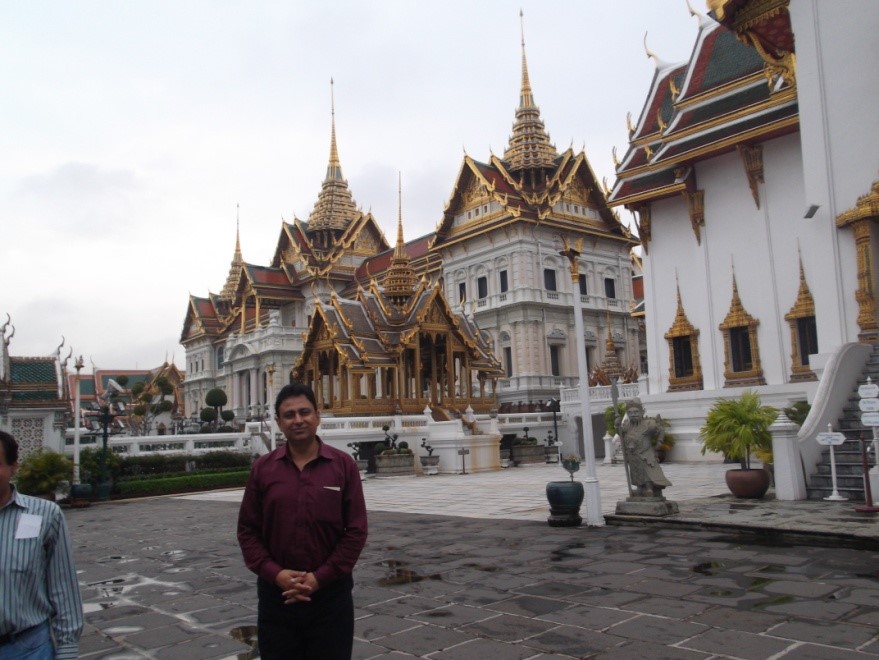 Grand Palace is a complex of buildings at the heart of Bangkok, Thailand. The palace has been the official residence of the Kings of Siam (the old name of Thailand) since 1782. The king, his court and his royal government were based on the grounds of the palace until 1925. The present monarch, King Bhumibol Adulyadej (Rama IX), currently resides at Chitralada Palace, but the Grand Palace is still used for official events. Several royal ceremonies and state functions are held within the walls of the palace every year.
Rather than being a single structure, the Grand Palace is made up of numerous buildings, halls, pavilions set around open lawns, gardens and courtyards. Its asymmetry and eclectic styles are due to its organic development, with additions and rebuilding being made by successive reigning kings over 200 years of history. It is divided into several quarters: the Temple of the Emerald Buddha; the Outer Court, with many public buildings; the Middle Court, including the Phra Maha Monthian Buildings, the Phra Maha Prasat Buildings and the Chakri Maha Prasat Buildings; the Inner Court and the Siwalai Gardens quarter.
Construction of the Grand Palace began on 6 May 1782 at the order of King Buddha Yodfa Chulaloke (Rama I), the founder of the Chakri Dynasty, when he moved the capital city from Thonburi to Bangkok. Throughout successive reigns, many new buildings and structures were added, especially during the reign of King Chulalongkorn (Rama V). By 1925 the king, the Royal Family and the government were no longer permanently settled at the palace, and had moved to other residences. After the abolition of absolute monarchy in 1932 all government agencies completely moved out of the palace.It is situated on the banks of the Chao Phraya River at the heart of the Rattanakosin Island, today in the Phra Nakhon District. The Grand Palace is bordered by Sanam Luang and Na Phra Lan Road to the north, Maharaj Road to the west, Sanamchai Road to the east and Thai Wang Road to the south.
The Grand Palace is currently partially open to the public as a museum. However it remains a working palace as several royal offices are still situated inside. The palace is one of the most popular tourist attractions in Thailand. In fact, construction of the Grand Palace is a proud salute to the creativity and craftsmanship of Thai people. Within its walls were also the Thai war ministry, state departments, and even the mint. Today, the complex remains the spiritual heart of the Thai Kingdom.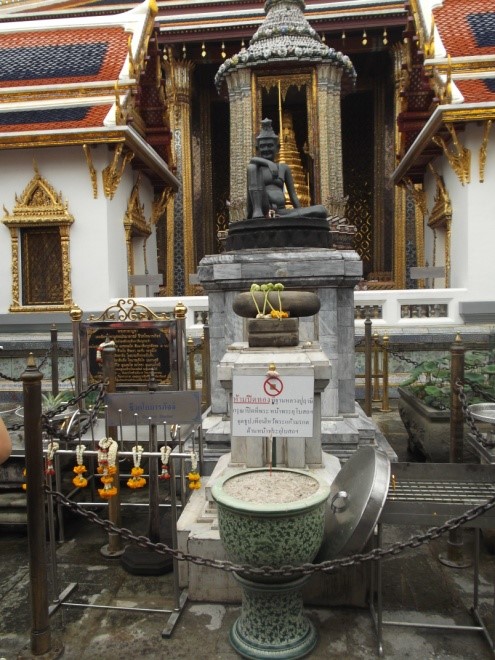 Visitors are expected to dress properly with reasonable shoes before being allowed entry to the temple. Men need to wear long pants and shirts with sleeves. Women are also expected to dress up modestly with full clothes covering the main body parts. If one shows up at the front gate improperly dressed, there is a booth near the entrance that can provide clothes to cover you up properly in lieu of some charges.
After taking so many snaps, interacting with tourists from several nationalities and taking coffee at a local restaurant, we also had the opportunity to have an overview of the Thai Ministry of Defense, Ministry of Foreign Affairs as well as Ancient University of Chinese Medicine on our way to hotel where were supposed to stay. At the mid-day, we checked in Centara Grand Hotels & Resorts near Convention Center in Bangkok.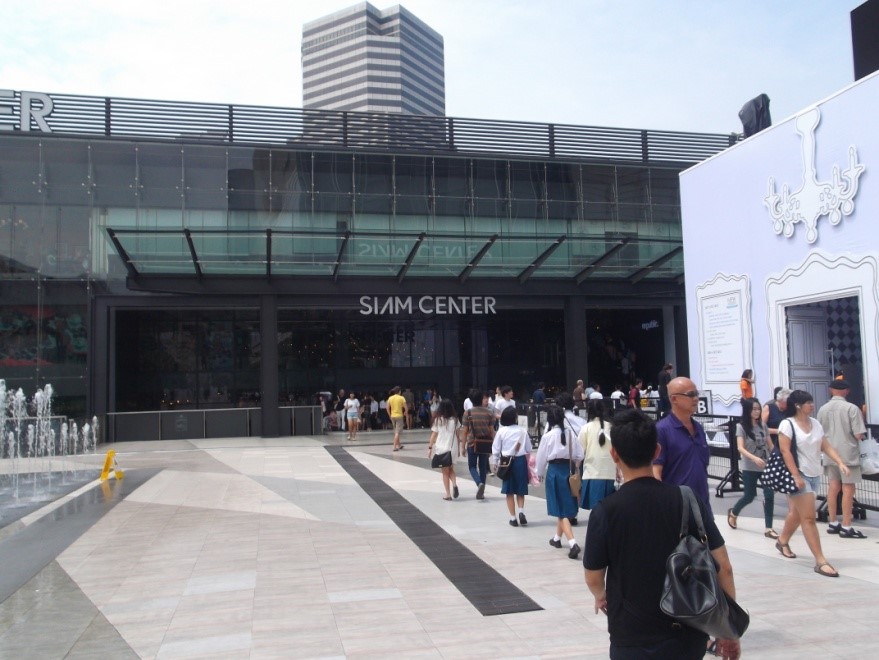 After checking in the hotel and taking some rest, we left for Siam Center. Siam is unquestionably the centre of shopping in Bangkok, home to some of the city's most popular and important shopping centers like MBK Center, Siam Discovery Center, Siam Center, and Siam Paragon. Within Siam Square itself, there is a wide range of shops and services, including restaurants, cafés, designer clothing boutiques, record stores, cinemas, bookshops, a Hard Rock Cafe, hotels and banks. Shoppers vary, from young-aged school and college students to office workers, trend-setting city dwellers and, of course, throngs of tourists.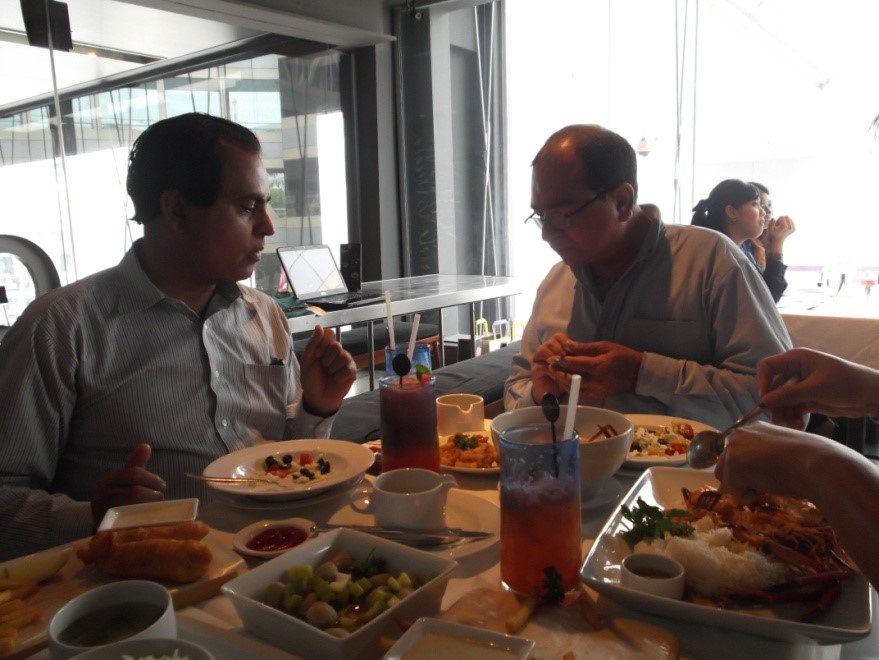 After extensive visit to Siam Center including Siam Paragon, we took exquisitely lavish lunch with a large variety of food at the famous Greyhound Restaurant based at the Center. Good sanitary condition, environmentally compatible atmosphere, the impressive level of local hospitality, presentation of hygienic food and quality of service by the restaurant made us further believe how a nation deserve to be remembered on a sustainable development path.
The exquisite lunch at Greyhound Restaurant was followed by some shopping spree in the Malls and skywalk to experience how different high-rise buildings were connected together demonstrating the best architectural models of construction industry in Thailand.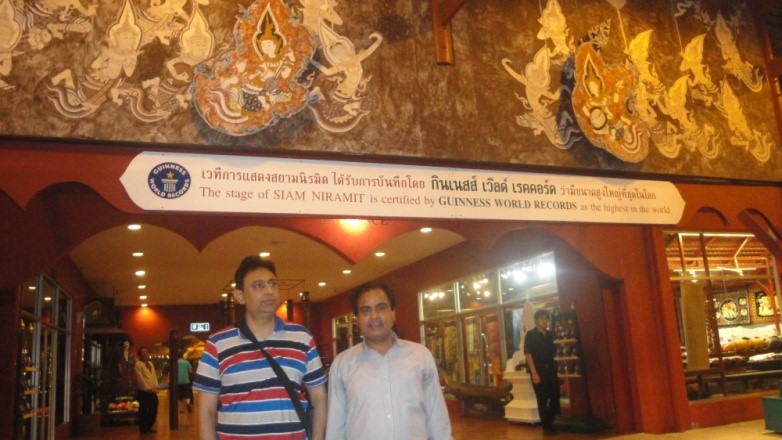 After our visit to the Siam Paragon, we left for The Siam Niramit Show in Bangkok at starts daily at 0800pm with duration of about 80 minutes without any intermission. This must-see spectacular show is performed on the gigantic stage listed in the Guinness World Records. The show featured over 100 performers, lavish costumes and stunning set designs. Enhanced special effects and the world's most advanced technology were used to produce a very realistic, stimulating and inspiring experience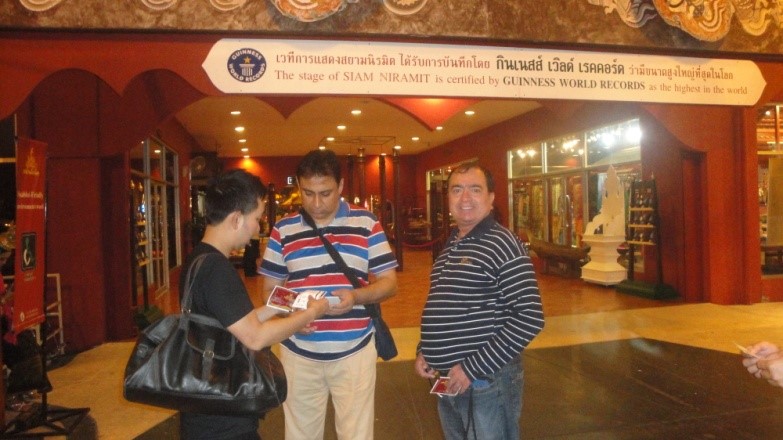 Siam Niramit has the uniqueness of being the world's biggest stage, a cast of hundreds, and bags of Thai finesse. The first act describes how Siam became a crossroads where civilizations met, the second how karma binds the Thai people, the last how religious ceremony earns Thais merit in this life. This was one of the unique shows for us that elaborated the history, bravery, socio-economic trends, political upheavals, morality and changing development patterns at the states arena in Thailand. This was the first time for us to be able view such performance that was a wonderful masterpiece of art and emerging technological developments in Thailand. After viewing Siam Niramit show, we had lavish dinner at one of the exclusive dining halls of Grand Centara Hotels & Resorts where we were also staying.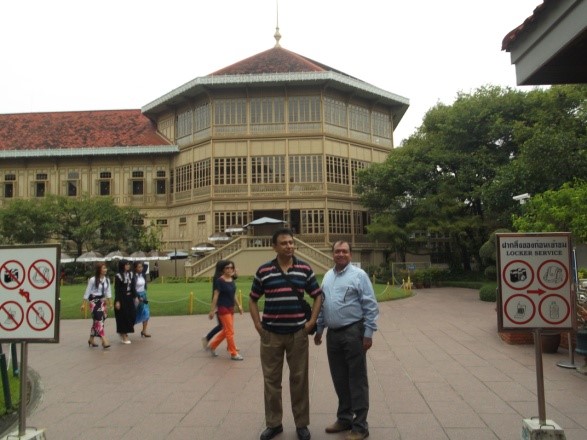 Day-2, 06 October 2013: On the second day of our trip, we visited the royal residence of King Chukologkorn made of completely with teak wood and decorated with Thai as well as European artifacts. The level of maintenance and quality of products on display was highly impressive. In addition to this rich Buddhist history of the country and the passion for sustainable development could easily be judged going through the captions of each item.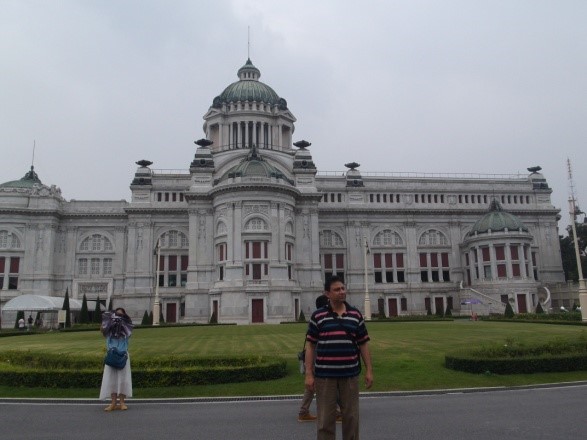 The use of technology seemed to be exploited efficiently by the Management of the Ananta Samakhom Throne Hall who provided us the devices with recorded guiding instructions to know about different artifacts and statues. The Ananta Samakhom Throne Hall is a former reception hall within Dusit Palace in Bangkok. It now serves as a royal museum and is from time to time used for certain state functions. There was no limit of the masterpieces of various artifacts depicting the hard work of artisans, rich cultural values of the country and the passion of Thai people to come up as one of the leading tourists' hubs in south-east Asia. Later on, we visited the Moroccon style architecture design museum – Ananda Thrown and other museums. This was followed by lunch at a Muslim Restaurant at Banglumpoo where we were served with the exclusive taste of Indian-Pakistani chicken curry and biryani. Later on we visited the Chakrapongse mosque, a model of Muslim architecture that was reserved for prayers of the Muslim community. We were also told about the presence of more than 150 mosques for Muslim community in Bangkok. This helped us understand how liberal and facilitating socio-ethical and moral attitudes are demonstrated by the Thai people towards the minorities from other religions. Afterwards, we went to China Town and the main River crossing the city.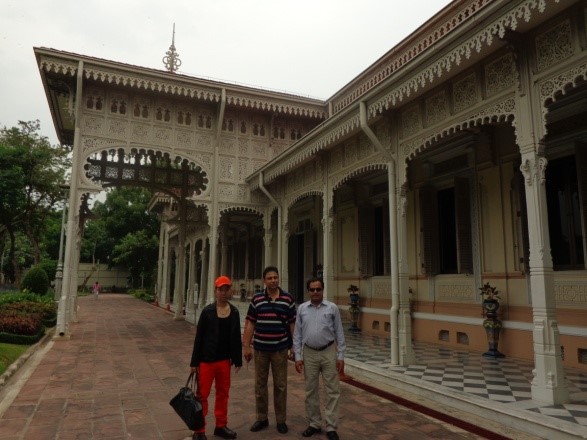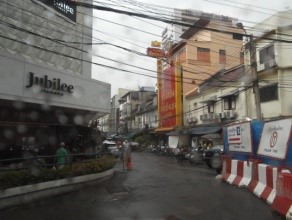 China Town is packed with market stalls, street-side restaurants, shrines, Chinese medicine stores and probably the greatest concentration of gold shops in the city, Chinatown is an experience not to miss. After sunset, the entire strip becomes a food haven for new-generation gourmands who flock here to explore the vibrant street-side cuisine. The energy that oozed from its endless rows of wooden shop-houses is plain contagious – it kept us wanting to come back for more. The best time to see Bangkok's China Town is when major festivals like Chinese New Year and the annual vegetarian festival in October are being held.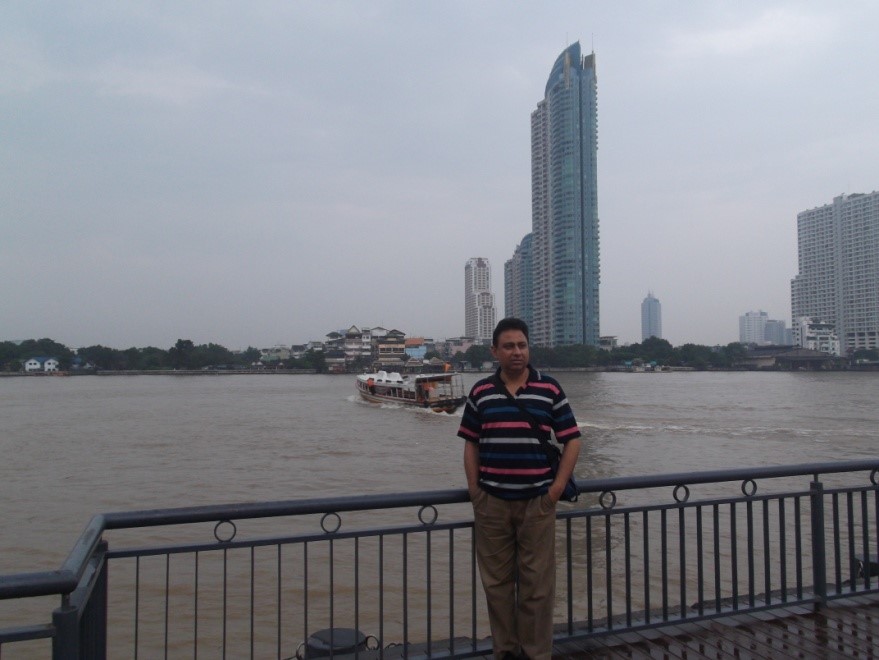 The Bangkok's riverside is the traditional heartland of this magical city with origins that read like an epic novel, complete with fallen and rising Kingdoms, heroes and traitors. Walking around the riverside amidst of crowd of tourists from diverse ethnicities and cultural background was a great experience. One of the most fascinating and scenic areas of Bangkok, the riverside reflects a constantly changing scene day and night; water-taxis ferrying commuters and heavily laden rice barges chugging upstream, set against a backdrop of glittering temples and palaces, historical landmarks and luxury, five-star hotels. Despite some condominiums and corporate towers that have risen from the river banks over the past decade or so, the area has retained its unique identity, exclusiveness and seductive charm.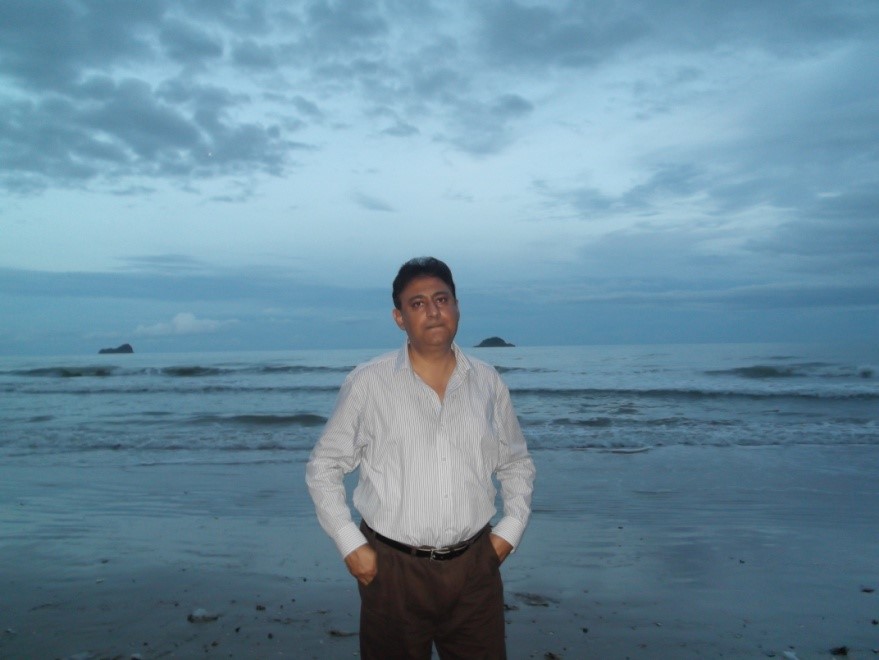 Day-3, 07 October 2013: On third day of our visit, we checked out Grand Centara Hotels & Resorts and left Bangkok for Hua Hin, the classic Resort town about 2.5 hours drive from here. Soon after arriving at Hua Hin, we checked in the Resort Hotel of Baan Nub Kleun with its refreshing suites along with all the relevant facilities. The Hua Hin has been well known for the stay of aristocrats only but now this is open for all. One of the Royal Initiative Projectss consisting of an irrigation dam is located here. Kaeng Krachan Dam is located in the vicinity of Kaeng Krachan National Park. Construction of the dam was completed in 1966 and power generation was installed later on.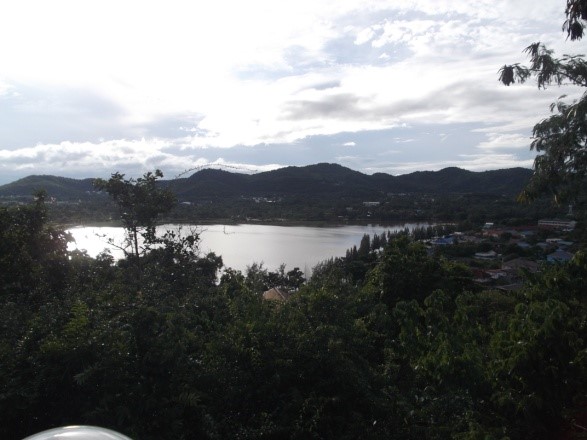 The dam stores water which is then released to Phetch Dam (Regulating Dam). Water is mainly used for irrigation and to solve the water shortage problem in Hua Hin District. The runoff water from the mountains is being stored in the constructed dam. This irrigation water is used for several crops including banana, mango, coconut, cassava, vegetables, fish farming etc. As a result of this initiative, local economy has been strengthened. In the evening, we had a refreshing visit to the Hua Hin Town to have a glimpse of a big Golden Buddha statue on the top of Koh Samui. Passing through brick stairs through the forest leading towards top of the hill, two of us were also attacked by the local species of mosquitoes that caused some fever but effectively treated in a short while by taking some medicine from a local medical store. At this point, we were also able to have a glimpse of the great Gulf of Thailand as well as the local residences of fisher folk communities across the gulf at Hua Hin.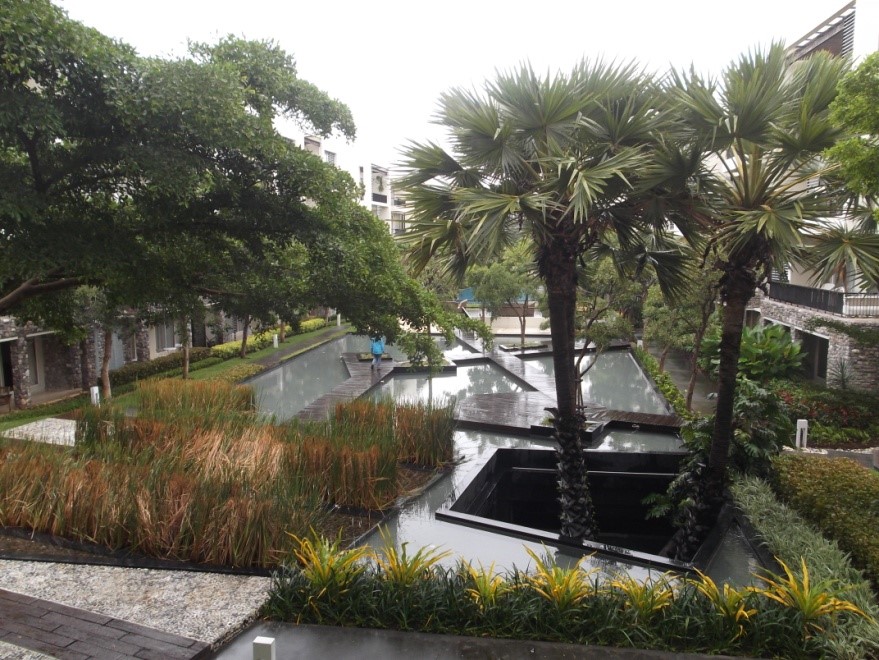 Hua Hin is a beach resort town in Thailand on the coast of Hua Hin district, in the northern part of the Malay Peninsula, some 200 km south of Bangkok. It has a population of 84,883 in an area of 911 km², and is one of eight districts (amphoe) of Prachuap Khiri Khan Province. Hua Hin is closely associated with the Thai royalty. Merely 25 kilometres apart, Hua Hin in Prachuap Khiri Khan Province enjoys a wealth of satellite attractions; prominent among them are national parks and historical cities. The district to the north is Cha Am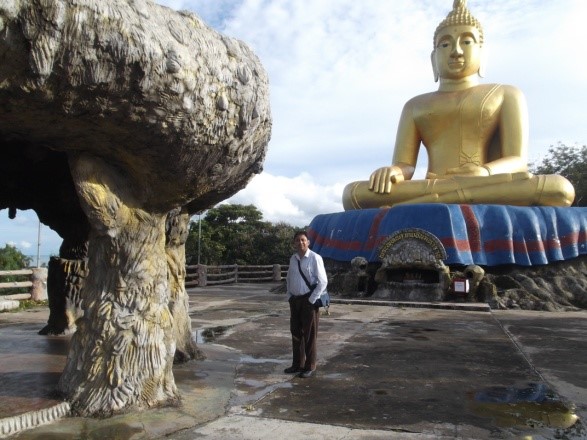 In the late evening, we had a great view of Hua Hin beach which is serene and calm at the Gulf of Thailand and took several snaps of these memorable moments. Around this beautiful beach, several theme parks and restaurants have been built for the tourists. Diverse range of exquisite food including sea foods is available at the local restaurants. The lunch and dinner experience of this day has been very unique for us in terms variety and taste of food.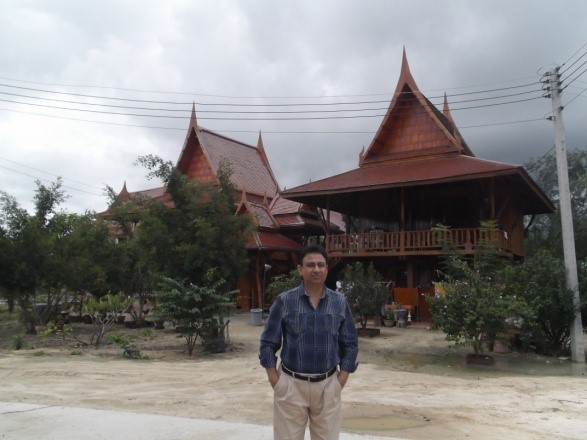 Day-4, 08 October 2013: On Day-4 after breakfast at S&P Restaurant, we left Hua Hin in the morning, had an overview of this classic city where King's Summer residence is also located. This followed us to Monk's site where we had an overview of the beautifully built wooden meditation center and interacted with some Monks and their disciples. Later on, we had a stopover at the Italiano Theme Park known as Venice of Italy in Thailand. There are about 50 such theme parks in Hua Hin. Santorini Park and shopping mall is also another well-known amusement park. In the afternoon, we had a lunch at Japanese Restaurant at a shopping mall at Silom Financial Center. Our host introduced us about 20 suspension bridges that have been built in Bangkok for smooth flow of ships underneath these and road communication over them.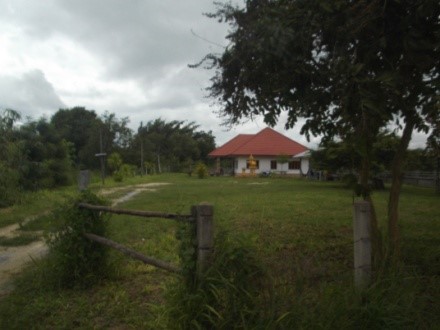 On the way from Hua Hin to Bangkok, we had an overview of several country sides beautifully built where some of the Royal Initiative Projectss have also been started by the King of Thailand. There is extensive road network in Thailand. According to a World Bank report, the number of roads in Thailand that are of course of good quality is unnecessarily high than required. As a result, this extensive road network has caused obstruction to the smooth irrigation of crops and sometimes drainage of water.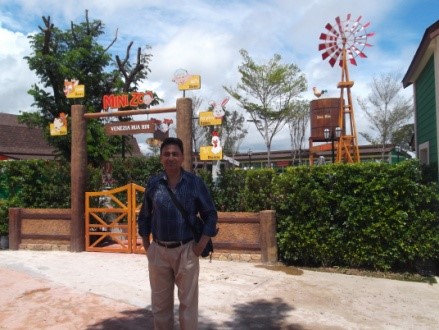 To check in at the hotel Bally's Studio Suite, we entered Silom Center. Who would have thought that an empty, swamp-like field with a tall 'Silom' (windmill) stuck in the middle would somehow become Bangkok's equivalent to New York's Wall Street? Today, Silom (by day anyway) is undoubtedly one of the city's most important financial districts with many bank headquarters, financial institutions and office buildings. Fine hotels, smaller type malls and great restaurants abound in the area too – and then of course there's the infamous nightlife scene of Patpong.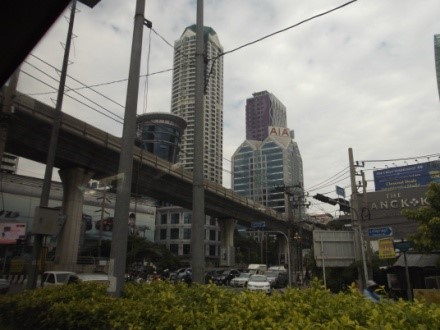 On the way from Hua Hin to Bangkok, we had an overview of several country sides beautifully built where some of the Royal Initiative Projectss have also been started by the King of Thailand. There is extensive road network in Thailand. According to a World Bank report, the number of roads in Thailand that are of course of good quality is unnecessarily high than required. As a result, this extensive road network has caused obstruction to the smooth irrigation of crops and sometimes drainage of water.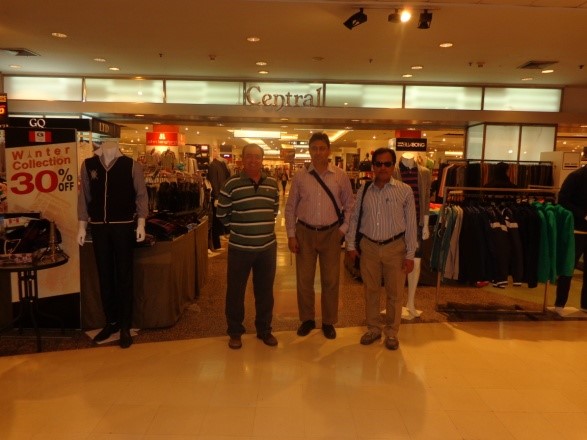 During free time in the evening, we had an opportunity to walk along the streets of Silom Center  and keenly observed the market system at Shopping Malls, roadside street stalls, small businesses, local customs and traditions of doing business, barter and bargain system in trade and business amidst of the huge crowd of mostly young men and women engaged in shopping and travelling across the streets of Silom Center.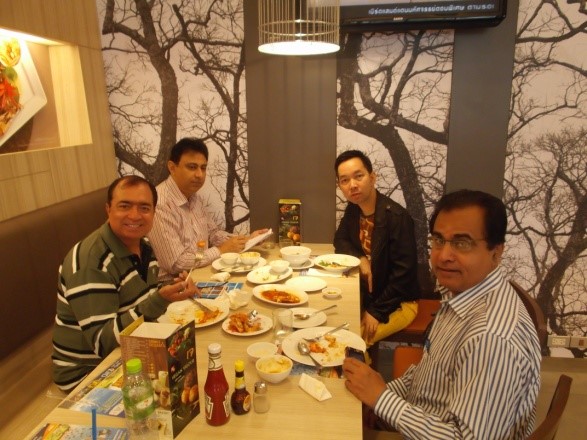 Day-5, 09 October 2013: This was the last day of our visit. We spent most of the time in Central World shopping malls around the city, had lunch at a Japanese restaurant and finally left for airport. Our chivalrous entry to the Bangkok Airport, smooth clearance at the emigration and window shopping at the duty free shops was a good experience. The diverse range of products was available at the airport duty free with their high profile brand names but sky rocketing prices. The airport entrance revealed a gracious outlook of the inside premises reflecting state-of-the architectural design of the building giving the projection of a fairy masterpiece. At the airport, we had enough time to visit various corners and market outlets that truly projected the quality standards being maintained by the Thai people.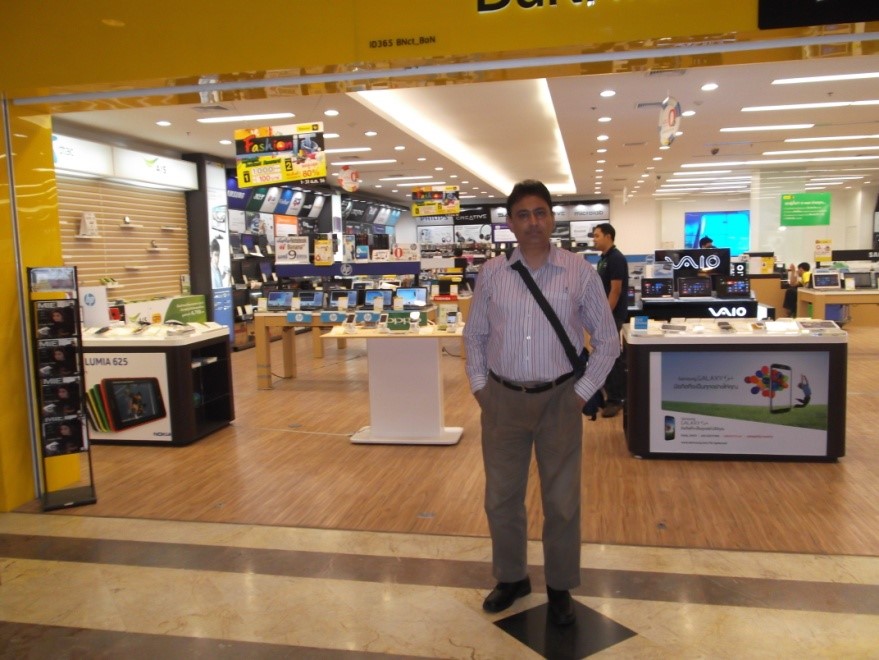 Thanks to our host who arranged great variety of quality food and coffee at various places throughout the trip. Being full of excitement and a mind  with the passion of learning by travelling and interacting with new people and cultures, I have been regularly downloading my pictures from the camera and posting on the facebook page www.facebook.com/azhar.qureshi as separate photo albums of each day with respective titles and short daily captions.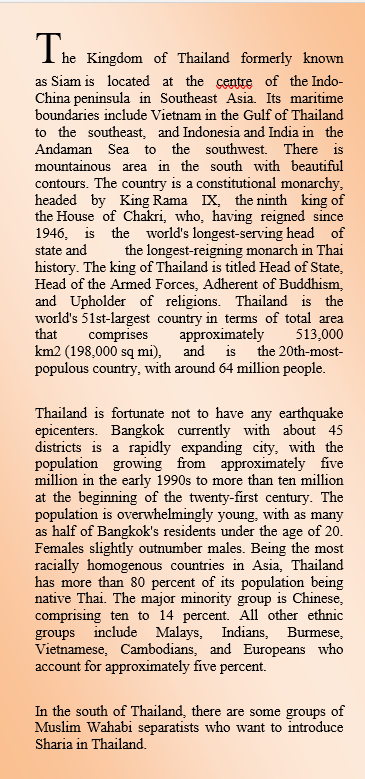 Personal Reflections – In Conclusion:
At present, Bangkok in Thailand is the World's No. 1 destination for the international tourists according to the third annual Global Destination Cities Index released by MasterCard. To me Thailand has been a great place to live and work. There is good scope for diverse range of businesses. The service industry is rapidly growing despite economic slowdown across the world. In contrast to what our media projects or ordinary visitors in Pakistan believe, I have found Thai people very disciplined, organized, hardworking, honest and extremely noble men & women. Despite being in exploratory mode to study various aspects of development patterns, I could personally find none of the negative aspects except a few specific and legally isolated areas for those tourists who have specific mindset to enjoy the personal time. These isolated areas in some of the districts have been created as part of Thailand's liberal policies towards tourism contributing in the national economy. Although tourism is a major contributor in the national economy as per global media projection but exportable commodities including the annual production of about one million cars in Thailand are the largest contributor for its economy. Therefore, a big misconception among us was removed during the current visit to Thailand when earlier we had the impression as the Tourism was the biggest contributor to the economy of Thailand.
This is generally perceived in Pakistan and other countries across the world that Thailand is a free sex society. Therefore, it is projected as a safe haven for all categories of the tourists from across the world. As a matter of fact, we did not see a single incidence or a phenomenon of free sex being practiced or observed at any of the public places from landing at Bangkok airport and then moving around all the important tourist sites. What we assessed in nutshell that the religiously Buddhist majority of Thailand prohibits the tendency towards a free sex society. Nonetheless for promotion of tourism and easing restrictions on the influx of foreign tourists in Thailand from diverse cultures and traditions, the monarchy has legally made it possible for the state to create isolated areas especially at Silom in Bangkok, Pataya and Phuket road for those who desire to have such spaces available. To some extent a trend among boys to look like girls called as Drag Queen was observed at the shopping malls and streets. Casinos are not allowed in Thailand as they tend to destroy the personal economy of people. As a whole there are no trends of being a free sex society within the religiously Buddhist faith of Thailand compared with Europe and Americas in general. On the other hand one should not confuse the common social norms with the free sex society such as the prevalent dress code, generally accepted social relations among men & women and easing of sexual restrictions limited to some areas for the tourists in Thailand, the country with majority of Buddhists who are in fact very liberal. Turkish baths are very popular in Thailand among the ordinary citizens as well as foreign tourists for availability of quality massage services, who are used to spend some of their leisure time at these facilities.
In Thailand, the concept of sustainable development can be seen as an approach to development that looks to balance different and often competing needs against an awareness of the environmental, social and economic limitations as is faced by the society. The government and people of Thailand seemed to be very conscious of maintaining balance among various development sectors based on emerging needs of the society. For example, they have been able to maintain the globally accepted limits of forest area necessary for long-term sectoral development sustainability. Despite the growing rate of urbanization and increasing human interventions, they have been successfully able to maintain roughly 35% area of forestry that is one of the main sources of providing ecological services such as fresh water, air, timber and Non-Timber Forest Products (NTFPs). Similarly the rate of deforestation is also checked for constant availability of ecological services to the growing population as well as to meet the needs of about 22 million tourists visiting Thailand annually and the projected revenue from tourism for the year 2014-15 is about 70 Billion US$. Being able to generate more and more revenues from tourism, the targets for number of tourists are being increased to about 22 million annually.
Markets as well as associated service industry are well established and professionally maintained in Thailand keeping in view increasing number of tourists and to meet the needs of consumerist trends among the citizens. With the population of females slightly higher than males, a large proportion of women are associated with the service industry. Therefore, most of the trade and business at the market level is being taken care of women folk. The quality of infrastructure and level of cleanliness in the urban centers is excellent and being maintained in accordance with globally accepted quality standards. Due to influx of 20 to 22 million of tourists annually in Thailand, a lot of customers may be easily seen on shopping spree in almost all of the shopping malls which are accessible through sky walk.
Keeping in view increasing human interventions due to rapid growth of tourism industry, the country has taken into account and started embedding the eco-tourism approach in all the relevant departments associated with the tourist industry. Compared with few years in near past, the eco-tourism approach has become very popular in Thailand. Therefore, the government is paying more attention towards responsible, environment friendly and climate compatible tourism. Whether there are hotels, condominiums, shopping malls, , street stall, luxury beaches, academic institutions or public & private sector institutions, the signs for adoption of eco-friendly concepts could be seen in the form of leaflets, brochures, billboards and signboards.
Compared with other neighboring countries, the situation of food security is comparatively better in Thailand. For example prices of food items are lower than in Pakistan. Taking due care of food security, the leftover food in hotels, restaurants and cafes in Thailand is given to animals as part of their organic feed. The life principles adopted by Buddhist Monks of having meals only once in a day is the best testament for their respect to food and looking after the poor for meeting their daily food needs. During the whole trip, I personally could not find any beggars wandering in the streets for alms except twice, firstly on Silom street and secondly across a shopping mall who seemed physically retarded. Due to embedded approaches of sustainable development in the existing governance structure of Thailand, the education, health, sanitation, communication, employment and livelihoods opportunities seem to be available equally to all citizens of the state. This is another best indicator of the responsible state of Thailand.
The major export commodities of Thailand are rice, maize, coffee, cassava, palm oil, rubber, animal feed, furniture, cars, jewellery and fish while the major imports include natural gas (from Myanmar) cotton (from Pakistan), ruby emerald (from KPK, Pakistan), Teak Wood (from Malaysia). Milk is neither exported from nor imported to any country. However the milk technology was introduced from Denmark, Copenhagen under King's Royal Initiative Projectss. Having cordial relations with the Government of Pakistan, the Government of Thailand has recently established a factory in Lahore to supply poultry meat to meet emerging needs of the metropolis at reasonable prices.
Out of total 100 beaches in Thailand, there are four popular beaches in Thailand in terms of their location, available tourist facilities and topography such as Pataya, Hua Hin, Cha-am and Bongsain. Patay is one hour drive from Bangkok which is full of nightlife. However, we visited the beach at the classic town of Hua Hin that was once allocated to the aristocrats only but now open for all. The Hua Hin beach located at Gulf of Thailand has a serene and calm environment. Near the beach, a water dam has been built under Royal Initiative Projects of King of Thailand for provision of irrigation water. A hydropower project has also been established here to meet electricity needs of the local population. The access water from the dam is released to the Gulf of Thailand through a canal. For gradual reduction in import of natural gas from Myanmar and having less dependency on the fast depleting fossil fuel resources for electricity, Thailand must focus on further development of its hydropower potential as part of its sustainable development.
The constitutional form of Monarchy is not only widely popular but also greatly loved by the people of Thailand. People have the unanimous belief that the leadership of their King under the monarchy is highly instrumental for ongoing sustainable development approaches being adopted in the country. The King has not only protector of the Buddhist religion of the 95% population of country but also a great leader who triggers the development process taking into account peoples' needs, their culture, traditions and expectations from monarchy. Under the constitutional form of monarchy, various Royal Initiative Projectss are being carried out across the width and breadth of country. Under these development projects, King takes care of agriculture, agri-business and irrigation initiatives and the Queen on livelihood initiatives such as handicrafts and artifacts.
His Majesty, the King of Thailand, Bhumibol Adulyade, after years of fieldwork and long hours of reflection, has come up with the initiative of economic self-sufficiency, focusing on how to enhance the ability of Thai communities to support themselves. Self-sufficiency or self-reliance is not isolationism. Rather, it is not keeping the poor, poor. Perhaps "sufficiency" is insufficient to describe his initiative. Sufficiency does not mean only "enough", it also means self-reliance and independence. It means building a solid base on which one can stand firmly. It means one must learn to stand before we walk or run. It is capitalism with an intelligent and conscientious face. It is about sustainability of progress and development. It is about happiness and balance in life.
Back when King Rama V was making visits to Europe, he always went to slums in cities. He knew that Thailand would industrialize and that some people would fall through the economic cracks and get left behind. He wanted to learn, so he could make Thailand's passage through the stages of economic development more equitable and less hazardous.
In King Bhumibol, we have a monarch who cares deeply about his people and dares to think outside of the box. The world is now paying more attention to "moral capitalism", a capitalist model that may avoid self-destruction. It is the type of capitalism that His Majesty has espoused, and it's about time we tried to understand this way of thinking.
Thailand has the policy to maintain very cordial relations with its neighbors such as Myanmar, Cambodia, Laos and Vietnam. The country gives priority to invest more on these neighboring states. In the Bay of Bengal area from Myanmar, Thailand imports a lot of natural gas to exploit this for electricity generation. As goodwill reciprocation, Thailand is trying for its better image building in the neighboring states by establishing there departmental stores, restaurants and cafes. In this context, Thailand has moved most of its textile industry to Laos and Cambodia as comparatively cheap labor is available in these countries which are economically quite feasible.
To meet its national electricity requirements, main sources of electricity generation consist of natural gas imported in huge quantity from Myanmar, petroleum based power plants and hydropower plants established at the Runoff Rivers as well as water dams. The water dams established in abundance also serve the purpose of irrigation for agricultural crops. In this way, Thailand has the greatest energy security in terms of electricity production to meet its consumption needs. No nuclear power plants are established for electricity generation in Thailand. Compared with Pakistan that is badly suffering from the electricity load-shedding, Thailand has no such issues although its energy requirements are much higher than Pakistan.
Silom has become the financial hub of Thailand in the metropolis city of Bangkok that is similar to the Wall Street in New York. Flamboyant nightlife across the Silom Center has further enhanced the economic & financial importance of this area. This is the major business centre in Bangkok and also known for diverse range of ordinary as well as luxury hotels, restaurants, apartments and shopping malls. Silom center plays an important role for maintaining financial stability and balance in the market system. During the last night, we preferred to stay at an ordinary restaurant known as Bally's Studio Suit amidst of the main Silom Street. As the street stalls are only allowed during the evenings, this is followed by great hustle bustle of the tourists as well as public at large. This was very peculiar to notice that hardly any older people could be seen in the market place and along the street stalls indicating as young generation of the country is actively involved in trade, business and services.
How Thailand develops its plan to become Asia's top tourism hub?
Thailand is blessed with an unmatched geographical advantage and a wide range of other strengths that have served well over the years. Now is the time to find ways of adapting its tourism strategies to take advantage of its strengths and address some of the looming weaknesses for further improvement and to promote eco-tourism. According to Timetric, a leading business information service, by the year 2017, inbound tourist arrivals will grow at a Compounded Annual Growth Rate (CAGR) of 8.79 per cent to reach 34.0 million. The Tourism Authority of Thailand (TAT) has launched several campaigns such as 'Amazing Thailand', 'Beautiful Thailand' and 'Unseen in Thailand' to attract domestic and international tourists, with a particular focus on tourists from China, Russia and India. Continuous efforts by the government to promote Thailand as an attractive tourist destination have boosted the industry. According to the World Economic Forum's Travel and Tourism Competitiveness Index for 2013, Thailand ranks at 11th position out of 140 countries in terms of destination marketing.
Recently, Tourism Authority of Thailand (TAT) has released its Action Plan for 2014 using travel and tourism to drive its core theme of 'Higher revenue through Thainess'. More tourists will be attracted to Thailand in near future by embedding the motif of 'Thainess' into every aspect of tourism. TAT aims at raising the awareness of Thailand as a quality destination, with a broad diversity of experiences that will contribute to visitors' overall happiness and enjoyment. The Action Plan outlines a 2014 target of 28.01 million international tourist arrivals, generating an estimated foreign exchange revenue of 1.326 trillion baht, an increase of 13 percent over 2013. Domestically speaking, TAT has a goal of spawning 136.8 million trips, producing an estimated 700 billion baht in tourism revenue that would be 9 percent higher than 2013. Other important components of the plan include balancing source markets and re-focusing customer segments to high-end markets; reducing visitor congestion in popular destinations; boosting connectivity with the ASEAN Economic Community; promoting Green Tourism and travel during the low season; and using technology to develop better customer relations and marketing initiatives.
An increasing demand for air transport has encouraged the government to improve existing airport infrastructure. A development plan at Thailand's busiest airport, Suvarnabhumi International Airport in Bangkok, is underway. The project is expected to improve the airport's passenger handling capacity.
The hotel industry in Thailand is planning new establishments and renovating existing ones. A rise in tourist volumes and competitive pricing of accommodation is expected to increase total hotel revenues to $13.1 billion by 2017, according to Timetric.
His Majesty the King's "Sufficiency Theory" has gone global with wider acceptability that focuses on self-reliance with sustainability. This theory also contributes in promotion of Thailand's tourism for enhancing revenues and to become a self-reliant country.
Important proposed action points for the Kingdom of Thailand to become Asia's top tourism hub:
Regular review of the existing marketing action plan for tourism and its up-gradation taking into account the fast pace process of globalization and current purchasing power of international tourists
With the ongoing global phenomenon of climate change that is due to affect every sphere of human development, efforts be made to further promote the concepts & approaches of eco-tourism through the involvement of media, academia, civil society organizations (CSOs) and the corporate sector if Thailand is willing to be in the mainstream of the globally accepted sustainable development patterns
The corporate sector in Thailand may be involved in tourism promotion efforts with contribution of at least 1 to 2% of their profits for further development of eco-tourism as their Corporate Social Responsibility (CSR)
To provide further incentives to the international tourists, all kind of airport and parking taxes may either greatly slashed or eliminated. Instead the main focus may be laid on provision of additional facilities at the tourist cities and cities shopping malls that could help to generate maximum revenues for the national economy
To overcome the recently occurred incidences of looting & snatching with tourists at Phuket and Pataya beaches, the current tourist security plan need to be reviewed. Tourist police stations and courts may be established at important sites for provision of timely action against the gangsters involved in such incidences.
List of all categories of hotels and restaurants in accordance of the varied purchasing power of tourists may be affixed at easy access points at airports, shopping malls and BTS Sky Train stations
Latest equipment and technologies of navigations, landing and for takeoff at or from airports may be arranged from advanced countries to address the issues related to bad weather conditions that usually causes either delay or diversion of flights
Quality printing of tourism promotional material including brochures, leaflets, charts and maps may be given priority as part of effective marketing strategy
The number of objective-oriented courtesy exposure visits from development sector, media, academia, corporations, public sector and tourist organizations from across the world may be increased to generate new ideas and develop innovative strategies for promotion of tourism in Thailand. At the completion of each visit, it must be mandatory on the visitors to submit, share and present outcomes of their exposure visits with useful recommendations for the Government of Thailand, either in the form of formal reports, newspaper articles, features or research papers for publication in international journals
For raising greater awareness and the level of interest about eco-tourism among international tourists, community based eco-tourism may be started in the best formally ways through social mobilization, training and education
Inter-provincial exposure visits of the community members involved in community based eco-tourism may be organized to share and learn their success stories in terms of promoting the concept of responsible tourism among the international tourists and raising their revenues as part of livelihoods development.
With 5 to 10% annual savings out of the total revenues generated through tourism, the government may also establish an 'endowment fund' as part of its strategic approach to protect the tourism industry in case the global economic slowdown is further increased at any stage.
With generation of some profits out of the fixed amount of endowment fund, new tourist areas may also be created in Thailand taking into account His Majesty, the Kings 'Theory of Sufficiency'
Although prostitution and casinos are illegal in Thailand as per states laws. However, the socially acceptable and environmentally compatible nightlife may continue to be protected but strictly limited to allocated districts or areas such as Bangkok, Phuket and Pataya so that Thailand being a majority Buddhist state could positively maintain its ethical image as part of the global village.
A balance has to be maintained between increasing human needs and the required interventions to be taken to address these needs. Therefore, instead of building more and more sky rise buildings and condominiums at the same limited place with more concentration, new areas may be selected in view of promotion of the eco-tourism that is gaining momentum across the world due to its environmental compatibility
To link newly developed tourist areas, different districts and provinces, the services of sky train as well as high speed trains may be extended or introduced taking into account its environmental impacts and needs of the international tourists.
To further build its liberal image, ethical values, pluralistic trends and interfaith harmony in line with Buddhist teachings, worship sites for the tourists may be further developed at all the important tourist sites as tourism is not confined merely to have fun and luxury but also sharing of useful ideas and building tolerance among tourists from different faiths and nationalities.